It seems fitting that I would begin this blog with the story of the birth of my youngest yet not first-born child.  What????? Ade' Immanuel Epperson was pulled and stretched from my body on September 7, 2010 after 14 years of infertility and the arrival of his 4 older siblings thru marriage and adoption.  Miracle, fulfillment of a promise, unmerited favor?  Yes, yes and yes.
My water broke on a Monday night after my husbands return from a weekend long trip to Atlanta.  The 5th week of bedrest was dragging and we were in the family room. Five people on a futon throwback from my first apartment when it happened. I have to admit my first response was fear. I'd suffered a bleeding episode in the beginning of the pregnancy and the wet, warm sensation was too close of a reminder of all that can go wrong in a pregnancy.
I called the doctor while trying to tell my 2-year-old I was okay. I worried. But worry is limited and can't cover the thoughts that ran through my mind or explain how my faith plummeted in a matter of seconds.  I was 33 weeks and 3 days pregnant after hoping to conceive for 14 years.  I had suffered 2 miscarriages in this span of time and I was 44 years old.  It felt like a threat. And facing the possibility of not meeting my son was something I wasn't ready to do. I knew I had to stay upbeat and positive for my children. I knew I had to stand on all I had prayed about up until this point. But I was afraid.
This was the test.  For once, I was happy about the way kids have a way of not allowing you the luxury of an emotional break down – there isn't time for it when you have little lives looking to you.   So I held it together and focused on my hair.  I had not gotten my hair braided for the delivery as planned. I quoted scriptures.  Luke 1:37, Ezekiel 16:6, Luke 1:45, actually, most of the 1st chapter of Luke.
A taxi cab ride later found us at the hospital and me… admitted.  Rodney left to take the kids to Grandmas and returned to find me hooked up to an IV and being monitored for contractions that were happening unbeknownst to me.  Ade's  breech position, that I had already had 2 myomectomies and the current presence of a large fibroid at my cervix brought me a one way ticket on the c-section train.  I was given medication to stop the contractions.  I had been on a blood thinner throughout the pregnancy and no surgery could take place with this drug in my system.
It was a long night.  Rodney and I talked about the kids , life, work and made a bunch of phone calls to a handful of friends who didn't even know I was pregnant.  We had been cautiously optimistic throughout this pregnancy and quite frankly we only started to talk about it when I began to show.  Even then, if you weren't in our daily or weekly circle …you probably didn't know.  I began twisting the front of my hair, anticipating the awful blue surgical cap I knew I'd be wearing in the morning. It was a long night.
I continued to contract throughout the night and was given more medication to keep them at bay.  They grew stronger and I began to feel them.  Not earth-shaking pain but my core was definitely being rocked.  I will never forget the feeling.  My baby was ready to come and I was excited and hopeful all would be well.  I thought about my other babies.  Emoni – the little boy I learned to love as my relationship evolved with his father, LiChai – my first spirit baby – the baby that saved my life,  Ila – the girl who made me feel beautiful again and Chailah – the one who brought peace.  I prayed.  We prayed.
In the morning, after very little sleep, I was taken to the operating room.  I remember a nurse who held/hugged me while I received the epidural.  I found her touch comforting and knew rest in her arms.  Everything would be okay.  Her arms were a physical reminder that I was not alone.  That in addition to my husband, my God was there.
Rodney came in and the last stage of our baby's birth began to unfold.  My doctor made a vertical incision on my stomach – from pubic bone to belly button – allowing my body to spread apart… my baby a means of escape.  Ade' Immanuel was born.  In spite of the diagnosis of a  blood clotting disorder, multiple fibroids, endometriosis, 14 years and a few losses…praise God, he was here.
I am forever changed. His arrival marked an undeniable shift in my world. The experience of conception, pregnancy and birth is a gift. One I'd worked hard at accepting as a joy I wouldn't know.  But I had come full circle and live the sweetness of this next chapter filled with gratitude.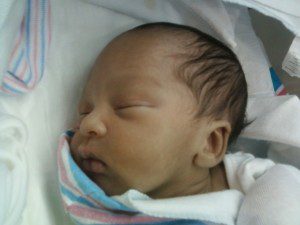 I parent him mindful of and grateful to the women who entrusted me with the fruit of their wombs.  I can never repay them but I can offer my heartfelt thanks and a promise…to be the best Mama ever to ALL the babies I call….MINE.
I couldn't hang with the ladies tonight but got up just in time to see this weeks prompt – "story".  All evening I couldn't get that word out of my head and I went back to this post to remember my miracle birth story and healing from infertility.  Not a true Five Minute Friday post but I swear Lisa Jo Baker's prompts are echoing what's already in my heart. So here it is the "story" that began my blog.
"Deliver Me" copyright 2013 All Rights Reserved