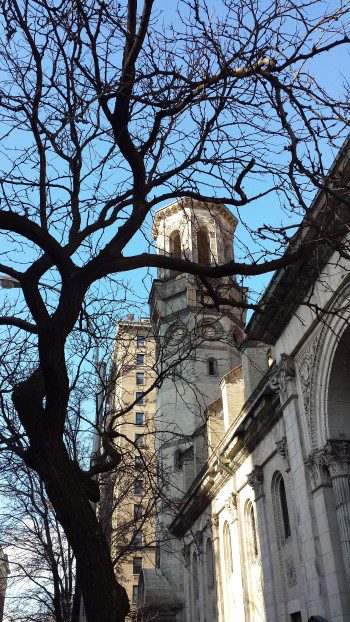 May our sons in their youth be like plants full grown, our daughters like corner pillars cut for the structure of a palace; – Psalm 144:12
Trailing skirts, braided hair, turrets and a tower. I never walk past the towered church on 86th St and West End Avenue in New York City without imagining myself in a period piece. Say what you will but my heart belongs to the old world. I have an affinity for the architecture and fashion, the speech patterns and peculiar graces of a society set on the semblance of propriety. Even knowing the lack of adequate plumbing doesn't deter my kindred connection to anything Romanesque, Gothic or Renaissance inspired.
♦♦♦
I spent Friday morning sitting in a pew at The Church of St. Paul and St. Andrew. Churches in the city have been a great friend to the homeschooling community. On Friday mornings my tween and teen explore algebra with a small group of children on the third floor of this beautiful church. I have the privilege of spending a few hours bathing in the perfection of midday light flooding the sanctuary.
It's quiet and spacious. And holy. That day I sat and cried while reading a gorgeous piece of writing by Holly Smothers Grantham. She lost her mother last year and her struggle and longing, her wrestling to make peace with the now of this transition as a daughter has been hard and beautiful…all at the same time. I've learned so much from it. Her struggle makes me think of my own.
"But, even at her weakest, my mom never stopped throwing open wide the doors of her heart. Whenever I crouched at her bedside to feel the heat rising from her brow or curled up under the covers and clasped her hands in mine, I was received into her deepest places. Not even disease could choke out love born in a broken body. Those fissures of cell and marrow became offerings of humility and grace and I always wept in their holy presence."
Her words washed over me. Warmed and healed me. They did their magic, filling the wordless chamber of my heart – the silent space where I wrestle with being a daughter of an aging mother…the daughter I was, the daughter I am now. My mother is changing, forgetting. The mother I remember. The one who mothered me. I need her but she needs me more and that shift is hard.
I'm living in the tight space between two worlds. In one world I'm corn-rowed and carefree, in the other I'm doing the braiding. I'm washing hair and paying bills, wiping noses and folding laundry. I'm waking up for coffee after too little sleep. I'm sending out and tucking in. I'm planning and doing… all the things she did for me. And now I wonder and worry about her… if she's eating well… if she went out today. If she's afraid.
I'm thinking about legacy and living well. I want to live the example my mother set for me. I want to love and hold her up during this transition. I want to live every thing she taught. How she held our hearts by melding the old and new…her life lessons and dreams, her individual creativity and inspiration to build a family…a home, a tower of love for her children…even through change.
I am her daughter.
I wander through the complex floor plan of our relationship. I'm finding my way in the spaces between rooms my mother designed.  Everything is familiar and foreign – because we're different. Both of us. Still, this season finds me meandering through the palace she built.
But our  foundation is laid solid with grace. No matter how complex I find areas of affinity, threads linking, connecting me to the home she built.  I'm searching but sure. I know why I'm here.
I'm here to maintain the structure of her palace. As my daughters will do in mine.
Let your handmaiden find grace in your sight…#GiveMeGrace